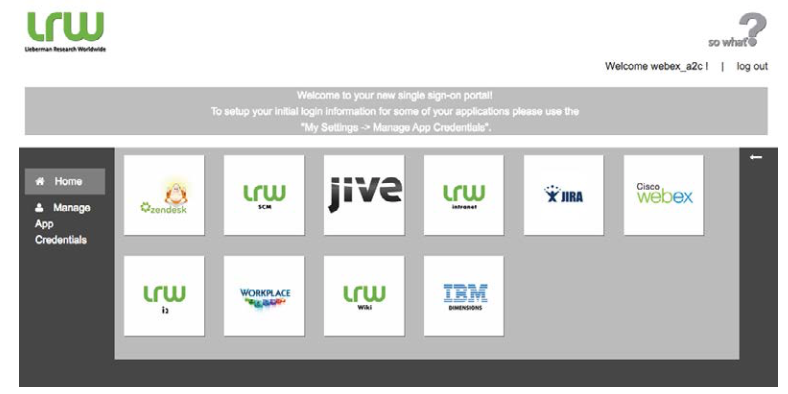 "LRW needed to integrate applications not included by many self-service SSO providers. Additionally, they did not have the necessary resources, expertise, or experience to implement this complex setup on their own."
Quick Facts
a2c Partner Since: 2013
Industry: Marketing & Consulting
Number of Users: 300
Type of Users: Employees
Number of Apps: 12
The Customer
LRW is an international consulting firm that has been providing market research and implementing global media strategies for nearly 40 years. Their core business solutions include strategy plans, brand development, product development, advertising and communications, and customer service. The Issue LRW wanted to streamline the major business applications used throughout the company and improve security and employee efficiency by implementing a Single Sign-On (SSO) program. However, LRW needed to integrate applications not included by many self-service SSO providers. Additionally, they did not have the necessary resources, expertise, or experience to implement this complex setup on their own. LRW tried reaching out to other SSO providers, but none of them could provide the full-service approach that LRW was looking for.
The authen2cate Solution
As part of our value as an enterprise- class SSO provider, a2c delivered not only integration of LRW's business applications, but full implementation and ongoing maintenance of the new system to save LRW time and money while providing them with an easier and more secure way to access their applications. Additionally, authen2cate will help integrate new applications in the future.
The Results
With the addition of authen2cate's SSO solution, LRW employees are more productive and the company has saved time and money while increasing security. a2c's complete hosting and maintenance of the system means that none of LRW's IT resources were needed to implement or support the solution. In addition to time and money saved in that area, LRW IT's time spent performing password resets for other employees has been reduced and calls to their help desk have dropped by more than 40%. Users are happier, more efficient, and secure as they navigate all of the cloud-based business applications that help LRW succeed.